Addition! 
Action Plan: https://www.facebook.com/events/352135098215287/
Join #FuerzaHernandez, #PuebloLucero, #CasaPerez, and other Southern California homeowners, as they come together to announce united home defense front in the Los Angeles area on anniversary of Occupy Our Homes. 

Event is a press conference, please come and support if you can. Lets share with all our independent livestreamers, bloggers, reporters.

- 12:00pm - Solidarity action at Wells Fargo, 1600 Vine St Los Angeles, CA 90028
Photo Album: https://www.facebook.com/media/set/?set=a.4010700308640.2143873.1315217726 
Press Coverage with JUICY photos!: 
Park La Brea News Beverly Press: 
Protestors call for banks to help people avoid foreclosure
By Edwin Folven, 12/06/2012

Dozens of demonstrators from a group called Occupy Fights Foreclosures protested Dec. 6 outside the Wells Fargo bank branch at 1600 N. Vine St. They claim banks continue to be unwilling to work with homeowners facing foreclosure.

Protestor Carlos Marroquin said the group is affiliated with Occupy L.A., and they chose the site in Hollywood because it is a high-profile location to call attention to the foreclosure issue. He said the demonstration was intended to persuade banks to work more closely with borrowers.

"If they work with people, they are less likely to lose their homes," Marroquin said. "We want them to help people stay in their homes by helping them avoid foreclosure."

Marla Schulman, a Sherman Oaks resident who is currently fighting to avoid a bank foreclosure on her home, said she joined the protest to call attention to the practice of banks selling their loans to other companies. Schulman said she purchased her home in 2006, but later lost her job in 2009 and was unable to make payments. While going through the foreclosure remediation process, she said the original bank that loaned her money sold the loan to another financial institution, and she has since been given an eviction notice.

"I'm still in my home, and I'm fighting," she said. "The bottom line is the banks are making enough money, and they need to help people."
---
Occupy Fights Foreclosure protests at Wells Fargo Bank in Hollywood
by Natasha Petrosova Friday, Dec. 07, 2012 at 10:37 AM

Occupy Fights Foreclosure protests inside Wells Fargo bank in Hollywood on December 6, 2012.

On December 6 a year ago, the groups of activists around the country participated in a day of action for housing justice launching the Occupy Our Homes movement. Since a year ago , activists, homeless advocates, students, homeowners and other occupy groups have come together to fight against illegal foreclosures and evictions.

Today, Los Angeles based group, Occupy Fights Foreclosure, celebrates a year anniversary and protests together with activists , homeowners and members of other occupy groups inside Wells Fargo branch on 1600 Vine street in Hollywood. The protesters demand justice, stop of illegal foreclosures, reduction of the principal of underwater mortgages and full compliance with the national Attorney General settlement. After an hour, Walls Fargo bank officials shut down the branch and forced the protesters to leave the building.

natashapetrosova.blogspot.com/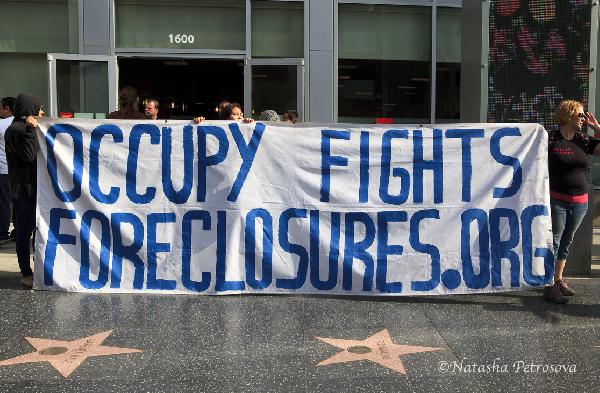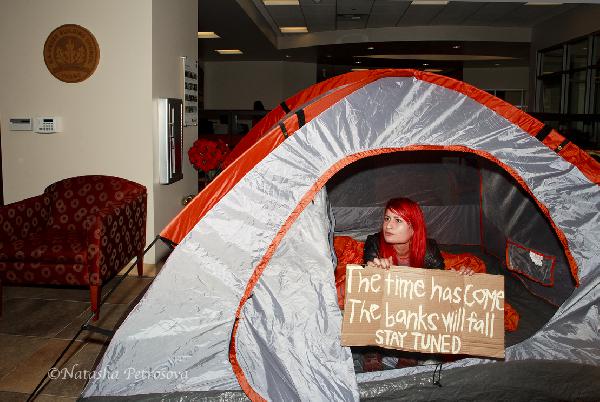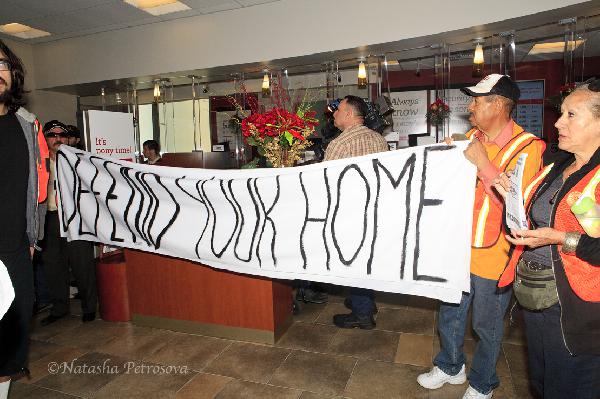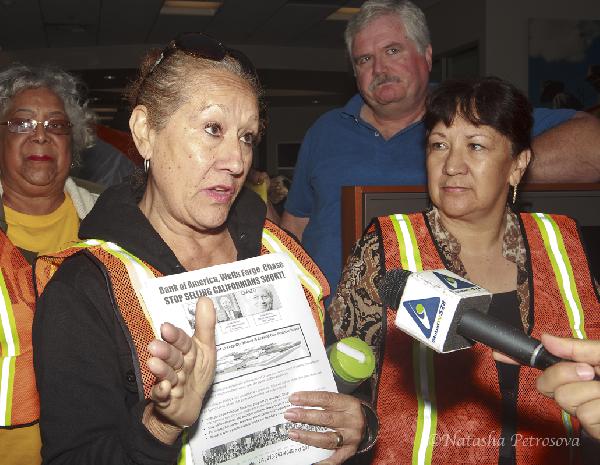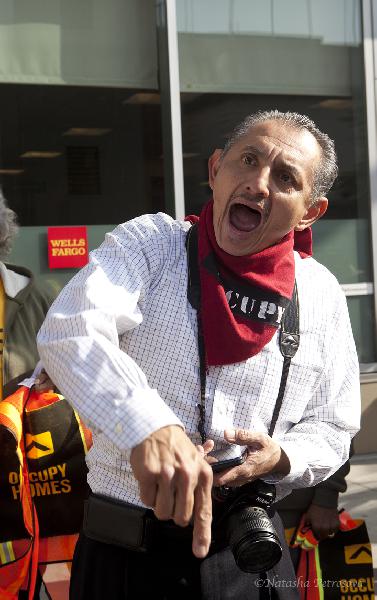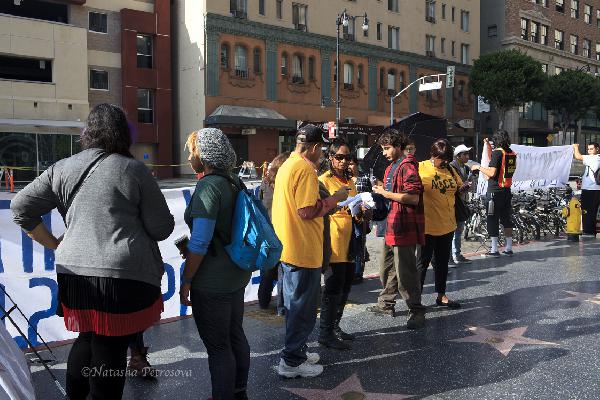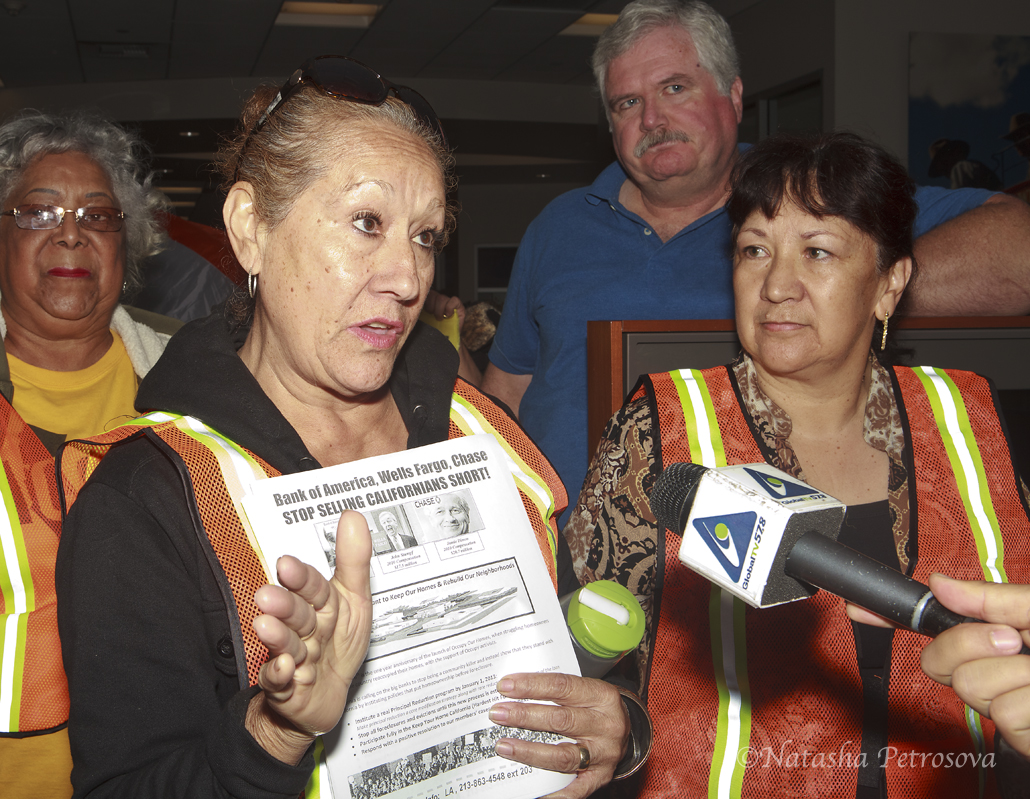 Do you like this post?